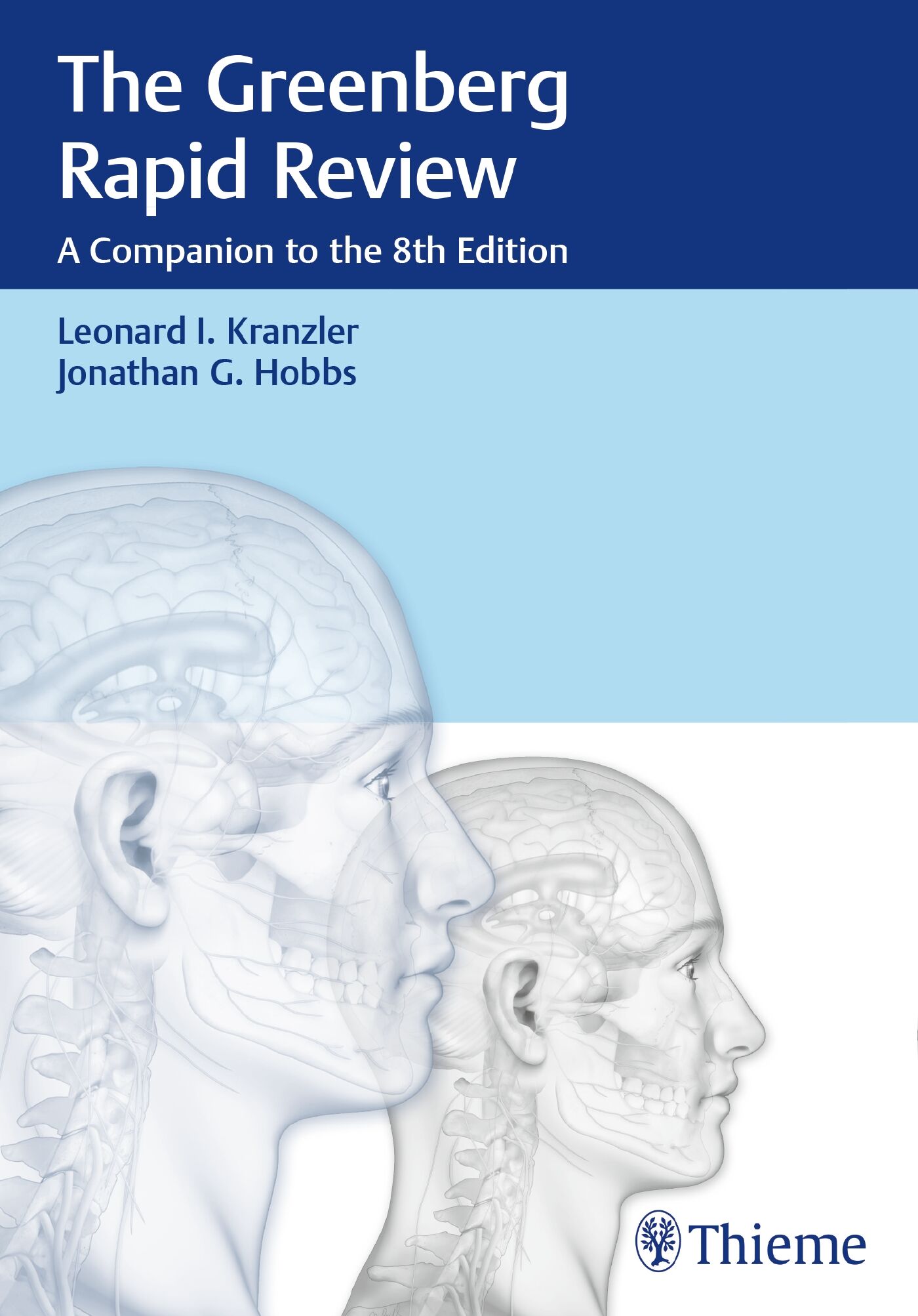 The Greenberg Rapid Review
A Companion to the 8th Edition
Edition:

1 2017

Details:

576 pages, 13 ill., Paperback (Perfect Binding)

ISBN:

9781626232068

Media Type:

Book

Language of text:

English
Product information The Greenberg Rapid Review
Written by an esteemed educator and founder of the renowned Chicago Review Course in Neurological Surgery™, this updated review reflects substantive content additions to the 8th edition. The two prior editions of the Rapid Review were must-have companions that fully leveraged the vast knowledge contained within Greenberg's legendary tome.
Through repetition and spot-on questions, this book brings clarity to a specialty whose sheer depth and breadth presents comprehension and retention challenges. This book helps readers determine if they are retaining key data and information, thereby providing a robust self-assessment study tool for ABNS certification.
The 7th companion generated glowing reviews, such as: "A wonderful example of how to turn the classic Greenberg text into a study guide rather than an encyclopedic reference to a young neurosurgeon" -AANS Young Neurosurgeons News
Key Highlights:
Question formats include fill in the blank, open-ended questions, true/false, matching, and identification of various elements in diagrams/figures
Mnemonic devices, helpful hints, clinical pearls, and study charts aid in comprehension and long-term retention
Greenberg chapter headings are used (e.g. 4.2.3), thereby providing clear-cut Handbook references
This book is designed to help neurosurgical residents prepare for the ABNS primary examination and/or rounds. It will enable practicing neurosurgeons, neurologists, neuro-radiologists, and neuropathologists to develop a storehouse of knowledge required to efficaciously examine, analyze, diagnose, and treat neurosurgical patients.
, This book brings clarity to a specialty whose sheer depth and breadth presents comprehension and retention challenges. It helps readers determine if they are retaining key data and information, thereby providing a robust self-assessment study tool for ABNS certification. Substantive updated content additions to the 8th edition Over 10,000 questions and answers help residents prepare for board exams Question formats include fill in the blank, open-ended questions, true/false, matching, and identification of various elements in diagrams/figures Written by an esteemed educator and founder of the renowned Chicago Review Course in Neurological SurgeryTM Mnemonic devices, helpful hints, clinical pearls, and study charts aid in comprehension and long-term retention