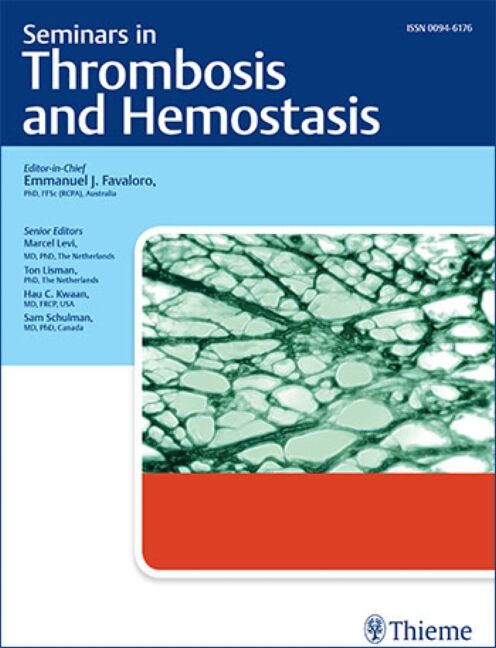 Seminars in Thrombosis and Hemostasis
ISSN:

0094-6176

Media Type:

Journals

Issues:

8 per year

Language:

English

Volume:

49
Product information Seminars in Thrombosis and Hemostasis
Subscribe today and receive up to 20% off your first year's subscription! Applies for Individuals only.
Click here to learn about the Eberhard F. Mammen Excellence in Thrombosis and Hemostasis Awards.

Seminars in Thrombosis and Hemostasis is a topic driven review journal that focuses on all issues relating to hemostatic and thrombotic disorders. As one of the premiere review journals in the field, Seminars in Thrombosis and Hemostasis serves as a comprehensive forum for important advances in clinical and laboratory diagnosis and therapeutic interventions. The journal also publishes peer reviewed original research papers.

Seminars offers an informed perspective on today's pivotal issues, including hemophilia A & B, thrombophilia, gene therapy, venous and arterial thrombosis, von Willebrand disease, vascular disorders and thromboembolic diseases. Attention is also given to the latest developments in pharmaceutical drugs along with treatment and current management techniques. The journal also frequently publishes sponsored supplements to further highlight emerging trends in the field.
IMPACT FACTOR 2021: 6.398
Abstracting and indexing:
Journal Citation Reports (JCR), Emerging Sources Citation Index (ESCI), Biol Abstracts, BIOSIS, Chem Abstracts, Current Contents/Clinical Medicine, Current Contents/LS, EMBASE, Excerpta Medica, Index Intern de Cardiologia, Index Medicus, MEDLINE, Reference Update, Research Alert, Science Citation Index, SCOPUS, Scisearch, EBSCO, ProQuest

Individual Rates: Personal subscription orders can only be placed by individuals and must include the recipient's name and personal address. Must be for individual use only and paid for by personal funds of the individual. Only qualified professionals are eligible for individual subscriptions.
For institutional subscriptions, please contact Institutional Sales for pricing at:
In US, Canada, South and Central America, please contact esales@thieme.com.
In Europe, Asia, Africa and Australia, please contact eproducts@thieme.de.
Please read our complete Terms of Trade for journal subscription policies.
Journal subscribers will receive a separate invoice and confirmation for your subscription order with taxes broken down separately as applicable and appropriate for your region.
Table of Contents:
https://www.thieme-connect.com/products/ejournals/journal/10.1055/s-00000077