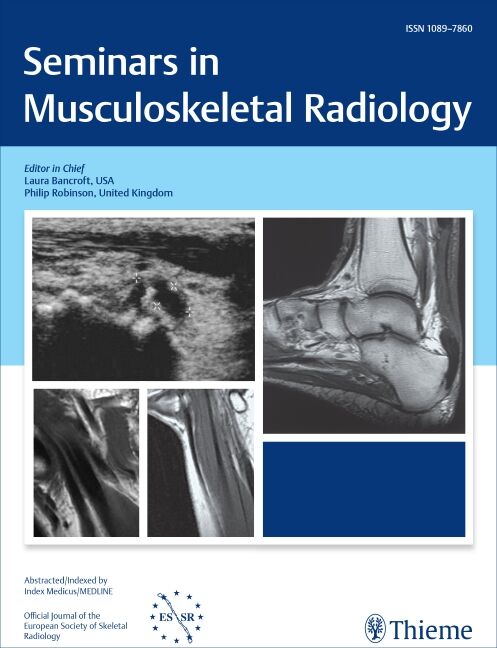 Seminars in Musculoskeletal Radiology
ISSN:

1089-7860

Media Type:

Journals

Issues:

6 per year

Language:

English

Volume:

27
Product information Seminars in Musculoskeletal Radiology
Subscribe today and receive up to 20% off your first year's subscription! Applies for Individuals only.
Seminars in Musculoskeletal Radiology is a review journal that is devoted to musculoskeletal and associated imaging techniques. The journal's topical issues encompass a broad spectrum of radiological imaging including body MRI imaging, cross sectional radiology, ultrasound and biomechanics. The journal also covers advanced imaging techniques of metabolic bone disease and other areas like the foot and ankle, wrist, spine and other extremities.
The journal's content is suitable for both the practicing radiologist as well as residents in training.

IMPACT FACTOR 2021: 1.675
Abstracting and indexing:
Journal Citation Reports (JCR), Emerging Sources Citation Index (ESCI), Current Contents/Clinical Medicine, EMBASE, Excerpta Medica, Index Medicus, MEDLINE, SCOPUS, Scisearch, EBSCO, ProQuest

Individual Rates: Personal subscription orders can only be placed by individuals and must include the recipient's name and personal address. Must be for individual use only and paid for by personal funds of the individual. Only qualified professionals and students are eligible for individual subscriptions.
For institutional subscriptions, please contact Institutional Sales for pricing at:
In US, Canada, South and Central America, please contact esales@thieme.com.
In Europe, Asia, Africa and Australia, please contact eproducts@thieme.de.
Please read our complete Terms of Trade for journal subscription policies.
Journal subscribers will receive a separate invoice and confirmation for your subscription order with taxes broken down separately as applicable and appropriate for your region.
Table of Contents:
https://www.thieme-connect.com/products/ejournals/journal/10.1055/s-00000070