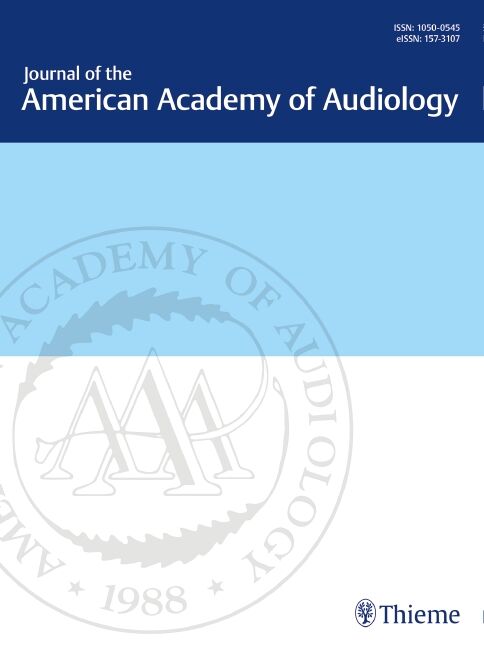 Journal of the American Academy of Audiology
ISSN:

1050-0545

Media Type:

Journals

Issues:

10 per year

Language:

English

Volume:

34
Product information Journal of the American Academy of Audiology

The Journal of the American Academy of Audiology (JAAA) is the Academy's scholarly peer-reviewed publication and available to Academy members as a benefit of membership. The JAAA publishes articles and clinical reports in all areas of audiology, including audiological assessment, amplification, aural habilitation and rehabilitation, auditory electrophysiology, vestibular assessment, and hearing science.
The journal is available in print and online. Articles published ahead of print are available via the eFirst service on the Thieme E-Journals platform.
Official journal of the American Academy of Audiology
IMPACT FACTOR 2021: 1.245
Abstracting and indexing:
MEDLINE/Pub Med, Web of Science SCI Expanded, Scopus, PsycINFO, EBSCO, ProQuest

Personal Rates: Personal subscription orders can only be placed by individuals and must include the recipient's name and personal address. Must be for individual use only and paid for by personal funds of the individual. Only qualified professionals and students are eligible for personal rate subscriptions.
For institutional subscriptions, please contact Institutional Sales for pricing at:
In US, Canada, South and Central America, please contact esales@thieme.com.
In Europe, Asia, Africa and Australia, please contact eproducts@thieme.de.
Please read our complete Terms of Trade for journal subscription policies.
Journal subscribers will receive a separate invoice and confirmation for your subscription order with taxes broken down separately as applicable and appropriate for your region.