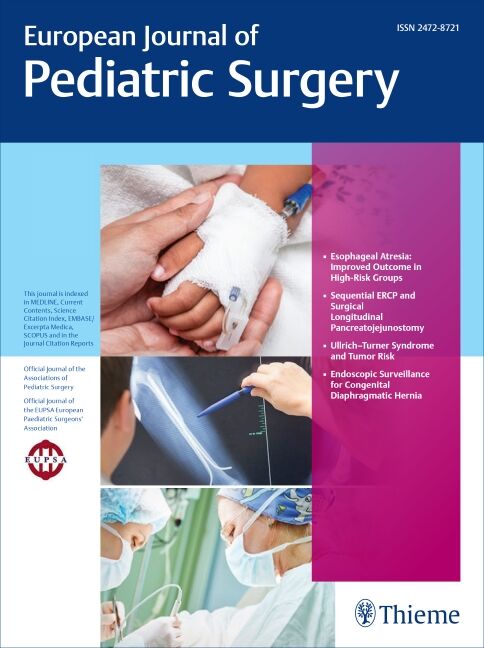 European Journal of Pediatric Surgery
ISSN:

0939-7248

Media Type:

Journals

Issues:

6 per year

Language:

English

Volume:

33
Product information European Journal of Pediatric Surgery
Subscribe today and receive up to 20% off your first year's subscription! Applies for Individuals only.
A publication that crosses borders...

This broad-based international journal updates you on vital developments in pediatric surgery through original articles, abstracts of the literature, and meeting announcements.
You will find state-of-the-art information on:
abdominal and thoracic surgery
neurosurgery
urology
gynecology
oncology
orthopaedics
traumatology
anesthesiology
child pathology
embryology
morphology
Written by surgeons, physicians, anesthesiologists, radiologists, and others involved in the surgical care of neonates, infants, and children, the EJPS is an indispensable resource for all specialists.

EJPS is the Official Journal of the EUPSA European Paediatric Surgeons' Association.
European Journal of Pediatric Surgery Reports is an Open Access companion journal to European Journal of Pediatric Surgery. Click here for more info.
IMPACT FACTOR 2021: 1.794

Abstracting and indexing:
MEDLINE, Current Contents, Science Citation Index, EMBASE/Excerpta Medica, SCOPUS, Journal Citation Reports, Emerging Sources Citation Index (ESCI), Web of Science, EBSCO, ProQuest

Individual Rates: Personal subscription orders can only be placed by individuals and must include the recipient's name and personal address. Must be for individual use only and paid for by personal funds of the individual. Only qualified professionals are eligible for individual subscriptions.
For institutional subscriptions, please contact Institutional Sales for pricing at:
In US, Canada, South and Central America, please contact esales@thieme.com.
In Europe, Asia, Africa and Australia, please contact eproducts@thieme.de.
Please read our complete Terms of Trade for journal subscription policies.
Journal subscribers will receive a separate invoice and confirmation for your subscription order with taxes broken down separately as applicable and appropriate for your region.