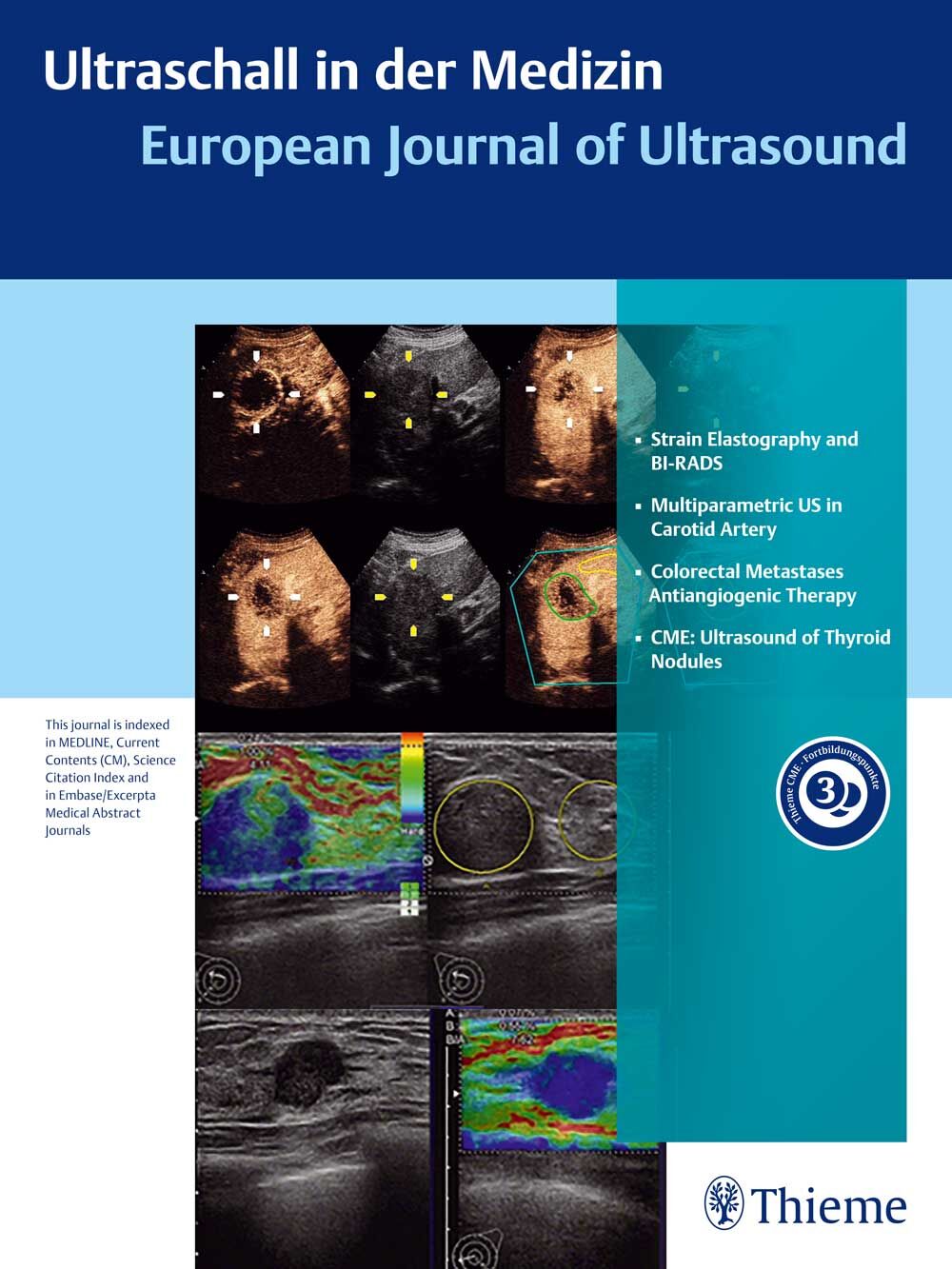 Ultraschall in der Medizin - European Journal of Ultrasound
ISSN:

0172-4614

Media Type:

Journals

Issues:

6 per year

Language:

German / English

Volume:

44
Product information Ultraschall in der Medizin - European Journal of Ultrasound
Subscribe today and receive up to 20% off your first year's subscription! Applies for Individuals only.
Ultraschall in der Medizin / European Journal of Ultrasound (UiM/EJU) is the most widely read interdisciplinary ultrasound journal. Its current Impact Factor is higher than that of any other ultrasound journal worldwide. UiM/EJU is the Official Journal of the European Federation of Societies for Ultrasound in Medicine and Biology (EFSUMB) and several European ultrasound societies. Click here for a full list of the societies involved.


Six times a year UiM/EJU provides readers with the following:
Comprehensive coverage of the latest developments in ultrasound with special focus on practical applications
Articles with exemplary ultrasound images of the highest quality
Reviews and original articles covering all medical areas relevant to ultrasound
Interesting case reports with images illustrating important points
Each issue with a comprehensive continuing education article
Newsletters of the affiliated societies, keeping their members thoroughly up-to-date on the societies' activities
All articles published in UiM/EJU undergo rigorous peer review. With web-based manuscript submission and expedited turn-around, rapid electronic and print publication is guaranteed.
EJU is accompanied by Ultrasound International Open - an Open Access journal publishing original and review articles as well as rapid communications, contributions on technical developments, case reports, pictorial essays and letters to the Editor.

IMPACT FACTOR 2021: 5.445

Abstracting and indexing:
MEDLINE, Current Contents (CM), Science Citation Index and in EMBASE/Excerpta Medical Abstract Journals, EBSCO, ProQuest

Individual Rates: Personal subscription orders can only be placed by individuals and must include the recipient's name and personal address. Must be for individual use only and paid for by personal funds of the individual. Only qualified professionals and students are eligible for individual subscriptions.
For institutional subscriptions, please contact Institutional Sales for pricing at:
In US, Canada, South and Central America, please contact esales@thieme.com.
In Europe, Asia, Africa and Australia, please contact eproducts@thieme.de.
Please read our complete Terms of Trade for journal subscription policies.
Journal subscribers will receive a separate invoice and confirmation for your subscription order with taxes broken down separately as applicable and appropriate for your region.