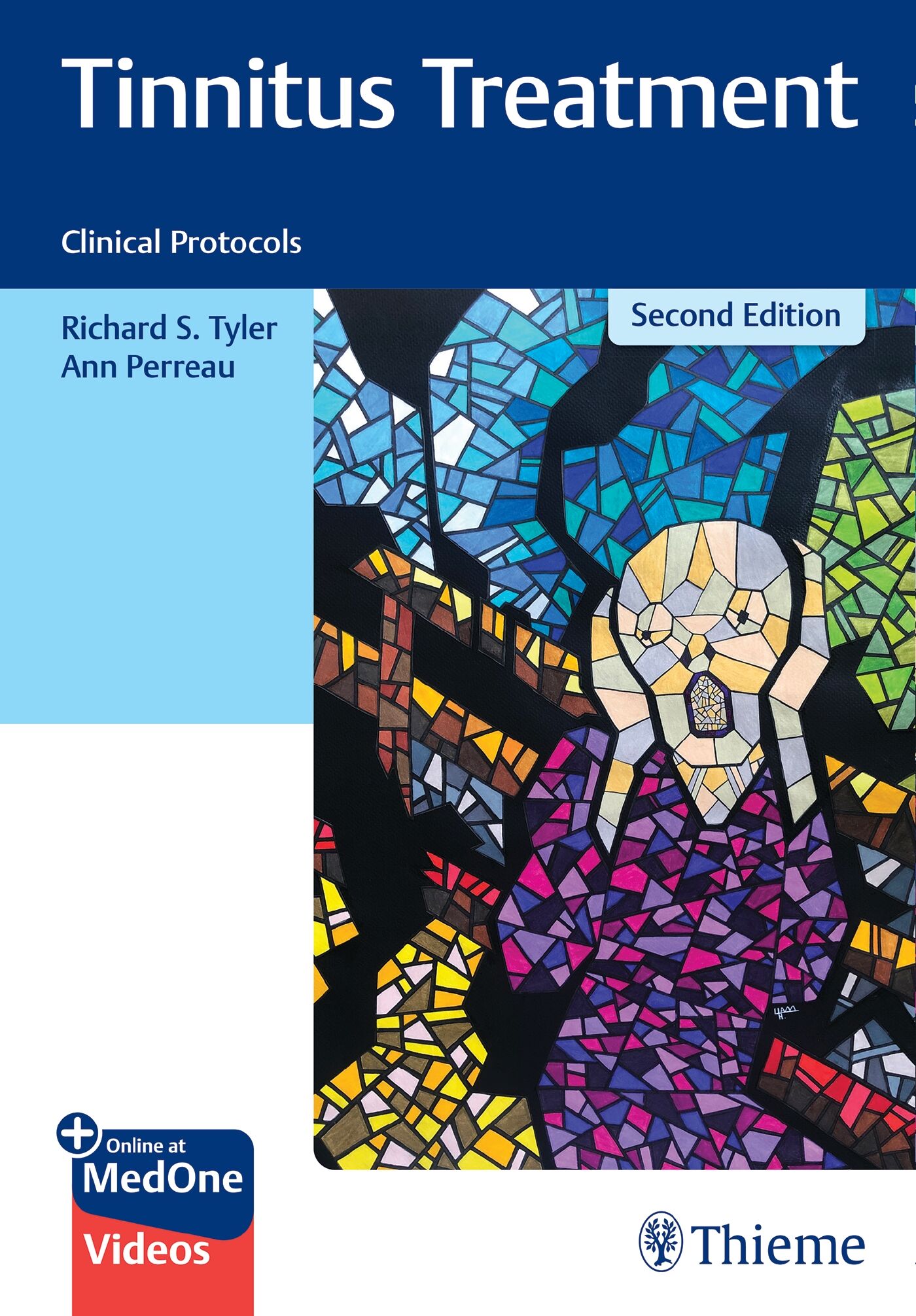 Tinnitus Treatment
Clinical Protocols
Edition:

2 2022

Details:

240 pages, 83 ill., Hardback (Perfect Binding)

ISBN:

9781684201716

Media Type:

Book

Language of text:

English
Product information Tinnitus Treatment
The quintessential clinical guide for audiologists on tinnitus and hyperacusis patient management
Since publication of the first edition in 2005, new developments have impacted the treatment paradigm for tinnitus, such as sensory meditation and mindfulness. Tinnitus Treatment: Clinical Protocols, Second Edition, by world-renowned tinnitus experts and distinguished authors Richard S. Tyler and Ann Perreau provides comprehensive background information, up-to-date strategies, essential tools, and online supplementary materials grounded in years of clinical experience and research. It fills a gap in graduate education and available materials to empower audiologists to effectively treat patients suffering from bothersome to severely debilitating symptoms associated with tinnitus or hyperacusis.
The textbook includes 15 chapters, starting with three chapters on tinnitus models, treatment approaches, and self-treatment options. The next three chapters summarize counseling approaches for audiologists and psychologists, including introduction of the three-track psychological counseling program for managing tinnitus. Chapters 7 and 8 discuss the use of hearing aids in patients with hearing loss-related tinnitus and sound therapy using wearable devices. Chapter 9 covers smartphone apps for tinnitus assessment, management, and education and wellness, including discussion of limitations. The last six chapters provide guidance on tinnitus management topics including treating children, implementing outcome measures, hyperacusis treatment, and future directions.
Key Features
New relaxation/distraction tactics including meditation, mindfulness, guided imagery, biofeedback, progressive muscle relaxation, art and music therapy, exercise, and exploration of new hobbies
Treatment guidance for patients with tinnitus associated with Meniere's disease, vestibular schwannoma, unilateral sudden sensorineural hearing loss, and middle ear myoclonus
Discussion and research-based evidence covering Internet-delivered self-help treatment strategies
New supplemental videos, brochures, handouts, questionnaires, and datasheets enhance knowledge, scope of practice, and incorporation of effective approaches into clinical practice
This is a must-have resource for every audiology student and advanced courses, as well as essential reading for all audiologists who feel underprepared in managing tinnitus and/or hyperacusis.
This book includes complimentary access to a digital copy on https://medone.thieme.com.
Frequently asked questions
How do I redeem my eBook?

Once you have successfully completed your eBook purchase on Thieme.com please look in your Order Confirmation e-mail for your unique redemption code. If you have not received your code, please contact Customer Service at customerservice@thieme.com for assistance.
Please go to https://www.vitalsource.com and make an account if you do not already have one.
Once you are logged in, click the Account menu at the top right of the screen. Select Redeem and enter the redemption code in the Code To Redeem box.
Press Redeem. Once the code has been redeemed your eBook will download and appear in your library.
(Please note that this is a one time use code)
Can I download e-books directly to mobile phones/tablets (without going through PC/laptop)?

Click this link to access app downloads for iPhone, Android, Kindle, Mac, PC, and Chromebook: https://www.vitalsource.com/downloads
Once you have downloaded the Bookshelf app, open the app and log in to your Bookshelf account to access your eBook. Click on "All Titles" in the collection pane to view all the eBooks in your account. Double-click on the title to download the book to your device. Once downloaded, double-click again to open the book.
Can I transfer e-books to other computers?
With an account from Vitalsource, you are able to access your book anywhere once you have logged in to your account at least once.
What is an e-book?
An e-book is an electronic edition of a printed book that is available as a file. The content does not differ from the printed edition of the book. Thieme offers electronic books in PDF and EPUB formats. For both formats, you need software to display the documents on your reading device. This software is not part of the e-book download.

What is the PDF format?
Adobe PDF format (Portable Document Format) is a standard format in MAC/PC area. Free programs for reading a PDF are available for all common operating systems (e.g. Windows, Mac OS, Linux) and for almost all e-book readers such as e-book readers, tablets or smartphones.
What is the EPUB format?
EPUB (electronic publication) is a standard format for e-books that enables dynamic adaptation of the text to the size of the display device. It is particularly well suited for displaying e-books on tablet PCs, smartphones, and e-book readers.
EPUBs can also be easily displayed on MACs/PCs via the free ADE (Adobe Digital Editions) software, for example.
Is an Internet connection required to read an e-book?
An Internet connection is required only to download the e-book to the reader. Once the download is complete, you can view and read the e-book without an Internet connection.
Are e-books copy-protected?
E-books from Thieme Publishing Group are provided with DRM (Digital Rights Management) protection from Vitalsource
On how many devices can I read the e-book?
You can read an e-book on up to six different (mobile) devices. These devices must be authorized with the same Adobe ID.
Can I exchange/return an e-book?
E-books are products that are not suitable for return due to their nature. Just like downloads of other electronic files (movies, music or software), e-books are excluded from the right of withdrawal. A return or exchange is therefore not possible.
Other questions?

If you have any questions about downloading Bookshelf, creating your account, or accessing and using your eBook edition, please visit http://support.vitalsource.com/