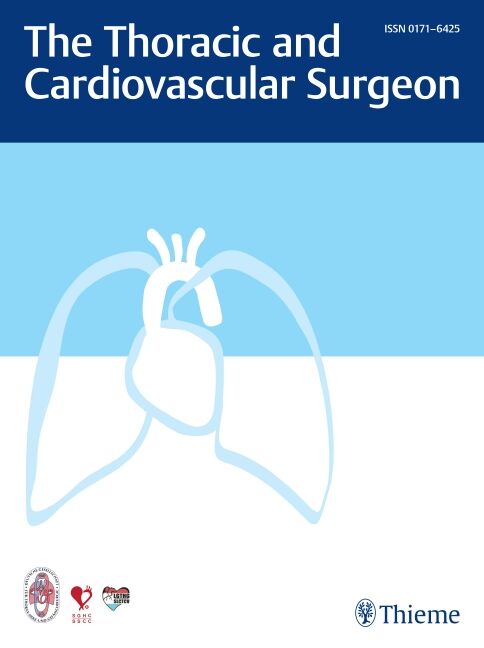 The Thoracic and Cardiovascular Surgeon
ISSN:

0171-6425.4

Media Type:

Journals

Issues:

8 per year

Language:

English

Volume:

71
Product information The Thoracic and Cardiovascular Surgeon
Subscribe today and receive up to 20% off your first year's subscription! Applies for Individuals only.
The Thoracic and Cardiovascular Surgeon publishes articles of the highest standard from internationally recognized thoracic and cardiovascular surgeons, cardiologists, anesthesiologists, physiologists, and pathologists. This journal is an essential resource for anyone working in this field.
Original articles, short communications, reviews and important meeting announcements keep you abreast of key clinical advances, as well as providing the theoretical background of cardiovascular and thoracic surgery. Case reports are published in our Open Access companion journal The Thoracic and Cardiovascular Surgeon Reports.

The Thoracic and Cardiovascular Surgeon now supports an alternative method of peer review: Select Crowd Review. Learn more about this innovative new way of peer review here.
The Thoracic and Cardiovascular Surgeon publishes an annual Pediatric Cardiology Open Access supplement issue in cooperation with the German Society for Pediatric Cardiology and Congenital Heart Disease (DGPK). To submit your article, visit our manuscript submission site and select article type Pediatric and Congenital Cardiology. This supplement accepts original papers from the whole field of Pediatric Cardiology and Congenital Heart Disease.
IMPACT FACTOR 2021: 1.756
Abstracting and indexing:
Current Contents (CM), Science Citation Index, MEDLINE, EMBASE, SCOPUS, Emerging Sources Citation Index (ESCI), EBSCO, ProQuest

Individual Rates: Personal subscription orders can only be placed by individuals and must include the recipient's name and personal address. Must be for individual use only and paid for by personal funds of the individual. Only qualified professionals are eligible for individual subscriptions.
For institutional subscriptions, please contact Institutional Sales for pricing at:
In US, Canada, South and Central America, please contact esales@thieme.com.
In Europe, Asia, Africa and Australia, please contact eproducts@thieme.de.
Please read our complete Terms of Trade for journal subscription policies.
Journal subscribers will receive a separate invoice and confirmation for your subscription order with taxes broken down separately as applicable and appropriate for your region.
The following is an interview with the Editor-in-Chief, Markus Heinemann: