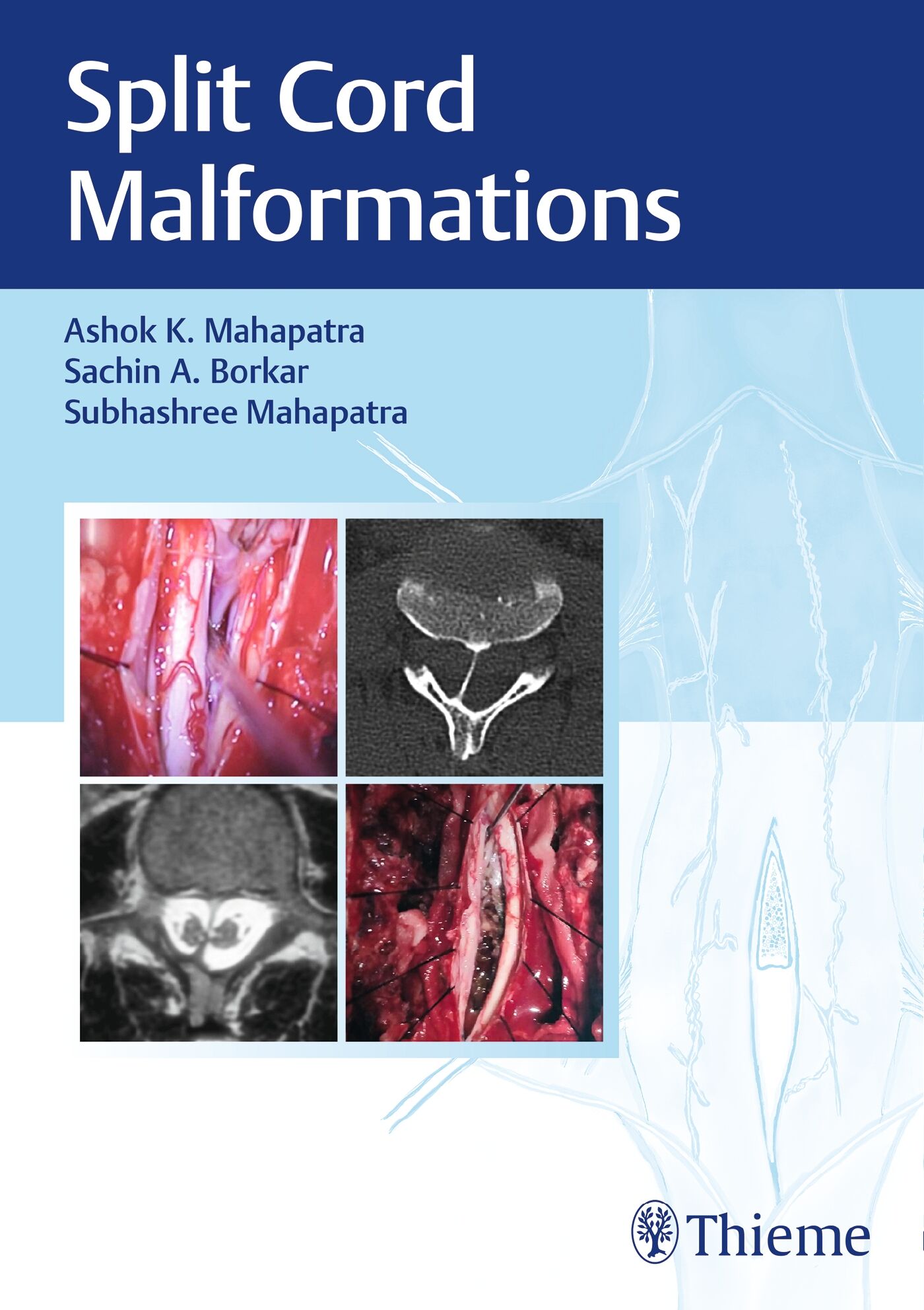 Split Cord Malformations
Edition:

1 2021

Details:

168 pages, 73 ill., Hardback (Perfect Binding)

ISBN:

9788194857099

Media Type:

Book

Language of text:

English
Product information Split Cord Malformations
Split Cord Malformations is written with the purpose of providing a complete overview of the management of this rare condition. The book benefits from the rich experience and expertise of its contributing authors in the management of spinal dysraphism in general and split cord malformation in particular. The book highlights the way a SCM patient must be treated to get excellent results. This book has 14 chapters dealing with all aspects of SCM ranging from embryology, diagnosis, and management.
Key Features
Clear depiction of the types of Split cord malformations
Various classification systems of SCM are covered along with their surgical implications.
Dorsoventral spur, its pathogenesis, and treatment nuances are discussed in detail as it is a special condition needing special care to prevent spinal cord damage.
Management of SCM type I and type II needs specific attention as they are of different nature. The explanations offered in the book cover both adequately.
Protocol for SCM management is discussed along with long-term outcome.
It also showcases a separate chapter on complex SCMs. The associated pathology like meningomyelocele, lipoma, thick filum, and congenital tumors must be managed on their own merit. Hence, proper diagnosis of the complex SCM helps in planning surgical strategy.
Anesthesia consideration for planning surgery in small babies is essential which is thoroughly catered in this book.
This book is meant to serve as an essential reference resource for neurosurgeons, pediatric surgeons, and spine surgeons.
About the Authors
Ashok K. Mahapatra, MS, MCh is Vice-Chancellor, Siksha 'O' Anusandhan (SOA) University, Bhubaneshwar, Odisha; Former Chief of Neurosciences Center; Former Head of Department of Neurosurgery, All India Institute of Medical Sciences, New Delhi, India.


Sachin A. Borkar, MCh, FACS, DNB, MNAMS is Additional Professor, Department of Neurosurgery, All India Institute of Medical Sciences, New Delhi, India.

Subhashree Mahapatra, BSc, PhD is Development Manager, Asia Pacific Region, Lipotec Ltd., New Delhi, India.
Frequently asked questions
How do I redeem my eBook?

Once you have successfully completed your eBook purchase on Thieme.com please look in your Order Confirmation e-mail for your unique redemption code. If you have not received your code, please contact Customer Service at customerservice@thieme.com for assistance.
Please go to https://www.vitalsource.com and make an account if you do not already have one.
Once you are logged in, click the Account menu at the top right of the screen. Select Redeem and enter the redemption code in the Code To Redeem box.
Press Redeem. Once the code has been redeemed your eBook will download and appear in your library.
(Please note that this is a one time use code)
Can I download e-books directly to mobile phones/tablets (without going through PC/laptop)?

Click this link to access app downloads for iPhone, Android, Kindle, Mac, PC, and Chromebook: https://www.vitalsource.com/downloads
Once you have downloaded the Bookshelf app, open the app and log in to your Bookshelf account to access your eBook. Click on "All Titles" in the collection pane to view all the eBooks in your account. Double-click on the title to download the book to your device. Once downloaded, double-click again to open the book.
Can I transfer e-books to other computers?
With an account from Vitalsource, you are able to access your book anywhere once you have logged in to your account at least once.
What is an e-book?
An e-book is an electronic edition of a printed book that is available as a file. The content does not differ from the printed edition of the book. Thieme offers electronic books in PDF and EPUB formats. For both formats, you need software to display the documents on your reading device. This software is not part of the e-book download.

What is the PDF format?
Adobe PDF format (Portable Document Format) is a standard format in MAC/PC area. Free programs for reading a PDF are available for all common operating systems (e.g. Windows, Mac OS, Linux) and for almost all e-book readers such as e-book readers, tablets or smartphones.
What is the EPUB format?
EPUB (electronic publication) is a standard format for e-books that enables dynamic adaptation of the text to the size of the display device. It is particularly well suited for displaying e-books on tablet PCs, smartphones, and e-book readers.
EPUBs can also be easily displayed on MACs/PCs via the free ADE (Adobe Digital Editions) software, for example.
Is an Internet connection required to read an e-book?
An Internet connection is required only to download the e-book to the reader. Once the download is complete, you can view and read the e-book without an Internet connection.
Are e-books copy-protected?
E-books from Thieme Publishing Group are provided with DRM (Digital Rights Management) protection from Vitalsource
On how many devices can I read the e-book?
You can read an e-book on up to six different (mobile) devices. These devices must be authorized with the same Adobe ID.
Can I exchange/return an e-book?
E-books are products that are not suitable for return due to their nature. Just like downloads of other electronic files (movies, music or software), e-books are excluded from the right of withdrawal. A return or exchange is therefore not possible.
Other questions?

If you have any questions about downloading Bookshelf, creating your account, or accessing and using your eBook edition, please visit http://support.vitalsource.com/