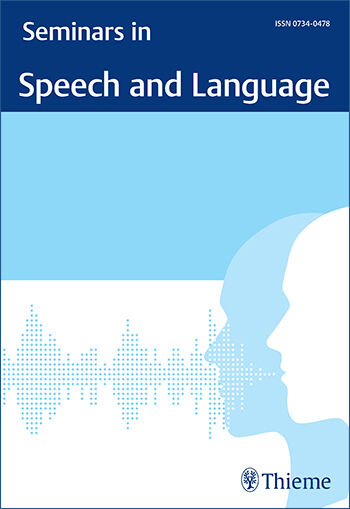 Seminars in Speech and Language
ISSN:

0734-0478

Media Type:

Journals

Issues:

5 per year

Language:

English

Volume:

44
Product information Seminars in Speech and Language
Subscribe today and receive up to 20% off your first year's subscription! Applies for Individuals only.
Seminars in Speech and Language is a topic driven review journal that covers the entire spectrum of speech language pathology. In each issue, a leading specialist covers diagnostic procedures, screening and assessment techniques, treatment protocols, as well as short and long-term management practices in areas such as apraxia, communication, stuttering, autism, dysphagia, attention, phonological intervention, memory as well as other disorders.
In 2022, Seminars in Speech and Language is not offering CEU credits. Please visit ASHA for alternative options.

IMPACT FACTOR 2021: 1.734
Abstracting and indexing:
Journal Citation Reports (JCR), Emerging Sources Citation Index (ESCI), Biological Abstracts, BIOSIS, Index Medicus, MEDLINE, PsycINFO, SCOPUS, CINAHL, EBSCO, ProQuest

Individual Rates: Personal subscription orders can only be placed by individuals and must include the recipient's name and personal address. Must be for individual use only and paid for by personal funds of the individual. Only qualified professionals and students are eligible for individual subscriptions.
For institutional subscriptions, please contact Institutional Sales for pricing at:
In US, Canada, South and Central America, please contact esales@thieme.com.
In Europe, Asia, Africa and Australia, please contact eproducts@thieme.de.
Please read our complete Terms of Trade for journal subscription policies.
Journal subscribers will receive a separate invoice and confirmation for your subscription order with taxes broken down separately as applicable and appropriate for your region.