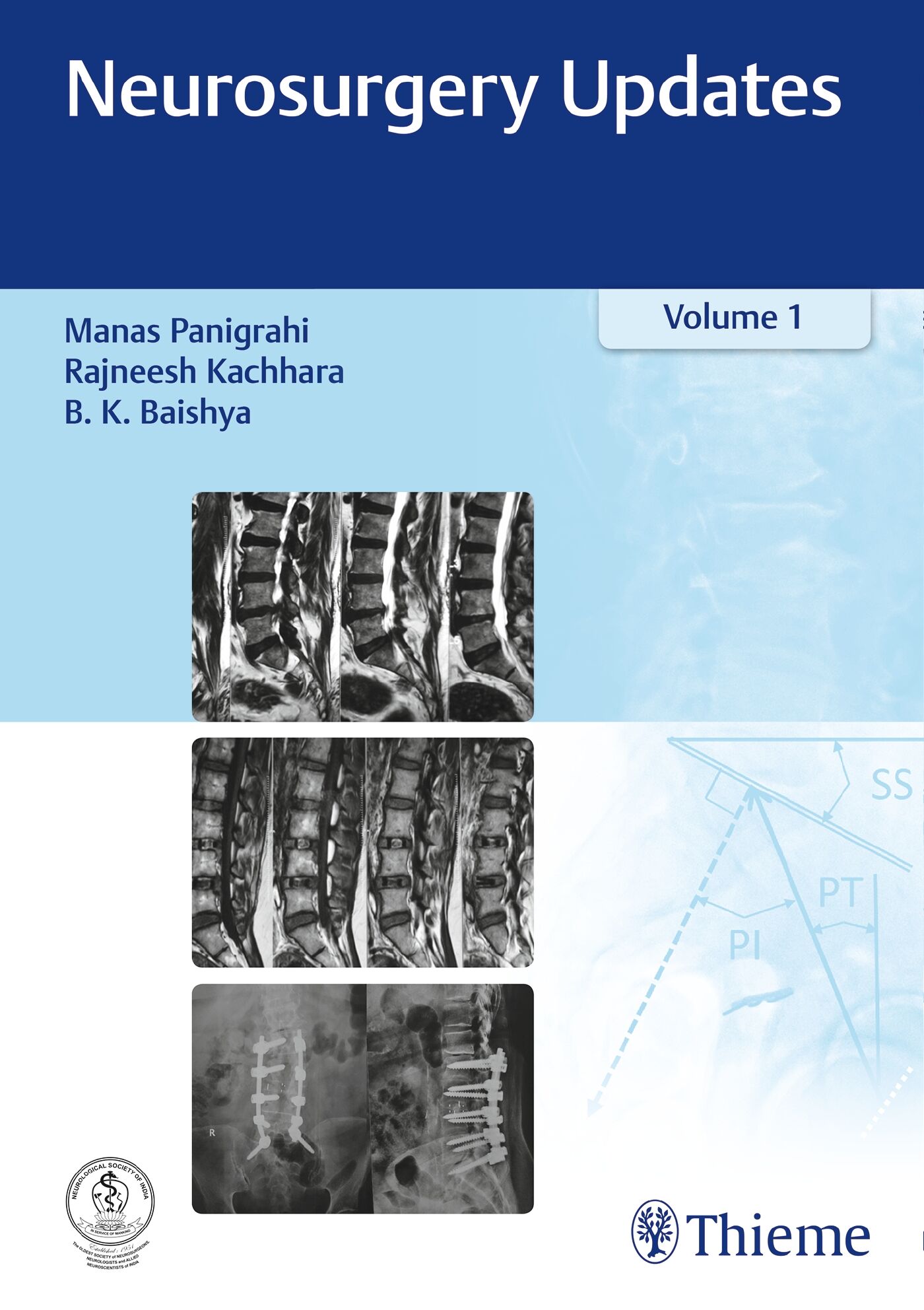 Neurosurgery Updates, Vol. 1
Edition:

1 2020

Details:

156 pages, 43 ill., Hardback (Perfect Binding)

ISBN:

9789388257756

Media Type:

Book

Language of text:

English
Product information Neurosurgery Updates, Vol. 1
This book is an essential update on the novel approaches used for surgical management of a spectrum of disorders affecting the spine. Focusing on practitioners, residents, and trainee neurosurgeons, the book offers guidance on selecting the most appropriate surgical management option for a variety of spinal conditions. All the 11 chapters of the book take the reader through a stepwise, logical presentation of not only the surgical approaches but also the neuroanatomy and biomechanics of the spine, pain mechanisms, and imaging techniques. Based on evidence-based practice and the vast experience of all authors, the book guides the reader through the diagnostic hierarchy and selection of the requisite approach for managing various disorders of the different regions of the spine. The book also identifies some of the most common potential complications of certain techniques and discusses strategies for avoiding them. The various surgical techniques have been described in the form of case presentations and illustrated with the help of images. The book will be of interest to not only neurosurgeons but also orthopaedic surgeons.
Manas Panigrahi, MCh, FACS, is Consultant Neurosurgeon and Head of the Department of Neurosurgery at Krishna Institute of Medical Sciences, Hyderabad, Telangana. He has set up one of the oldest comprehensive epilepsy centers of India in NIMS and KIMS. He actively contributes toward literature in neurosurgery using technology to assist a neurosurgeon achieve better outcome and reduced complications. His honours and awards include Young Neurosurgeon Award at Kyoto, Japan; International Paediatric Neurosurgeon, Salt Lake, USA; and numerous Travel Awards from the ISPN Congress held in Rome and Australia. Dr Manas has more than 100 publications in peer-reviewed journals, reviews, chapters, and invited Editorials. His contribution to education and training has been acknowledged by Neurological Society of India and he has been appointed as Chairman of its Educational Committee.
Rajneesh Kachhara, MS, MCh, is Director at Institute of Neurosciences, Medanta Superspeciality Hospital, Indore, Madhya Pradesh. His areas of interest are vascular and skull base surgery, neurooncology, pituitary tumors, spine surgery, and serious brain trauma. He has undergone fellowships in skull base surgery at Mount Sinai Medical Center, New York; The George Washington University, Washington DC; and Keio University, Tokyo, Japan under able and dynamic teachers. He is associated with many international and national neurosurgical societies. He has nearly 40 publications in peerreviewed journals and has also authored a book chapter.
B. K. Baishya, MS, MCh, is Professor and Head of the Department of Neurosurgery, Gauhati Medical College, Guwahati, Assam. He is an expert in vascular neurosurgery, skull base surgery, and pediatric neurosurgery. He is the Founder President of Skull Base Surgery Association of North-East India and Neurosurgical Association of North-East India. He is presently a member of Board of Education, Neurological Society of India and executive member of other national neurosurgical bodies. Dr Baishya has more than 40 publications in national and international journals.
Frequently asked questions
How do I redeem my eBook?

Once you have successfully completed your eBook purchase on Thieme.com please look in your Order Confirmation e-mail for your unique redemption code. If you have not received your code, please contact Customer Service at customerservice@thieme.com for assistance.
Please go to https://www.vitalsource.com and make an account if you do not already have one.
Once you are logged in, click the Account menu at the top right of the screen. Select Redeem and enter the redemption code in the Code To Redeem box.
Press Redeem. Once the code has been redeemed your eBook will download and appear in your library.
(Please note that this is a one time use code)
Can I download e-books directly to mobile phones/tablets (without going through PC/laptop)?

Click this link to access app downloads for iPhone, Android, Kindle, Mac, PC, and Chromebook: https://www.vitalsource.com/downloads
Once you have downloaded the Bookshelf app, open the app and log in to your Bookshelf account to access your eBook. Click on "All Titles" in the collection pane to view all the eBooks in your account. Double-click on the title to download the book to your device. Once downloaded, double-click again to open the book.
Can I transfer e-books to other computers?
With an account from Vitalsource, you are able to access your book anywhere once you have logged in to your account at least once.
What is an e-book?
An e-book is an electronic edition of a printed book that is available as a file. The content does not differ from the printed edition of the book. Thieme offers electronic books in PDF and EPUB formats. For both formats, you need software to display the documents on your reading device. This software is not part of the e-book download.

What is the PDF format?
Adobe PDF format (Portable Document Format) is a standard format in MAC/PC area. Free programs for reading a PDF are available for all common operating systems (e.g. Windows, Mac OS, Linux) and for almost all e-book readers such as e-book readers, tablets or smartphones.
What is the EPUB format?
EPUB (electronic publication) is a standard format for e-books that enables dynamic adaptation of the text to the size of the display device. It is particularly well suited for displaying e-books on tablet PCs, smartphones, and e-book readers.
EPUBs can also be easily displayed on MACs/PCs via the free ADE (Adobe Digital Editions) software, for example.
Is an Internet connection required to read an e-book?
An Internet connection is required only to download the e-book to the reader. Once the download is complete, you can view and read the e-book without an Internet connection.
Are e-books copy-protected?
E-books from Thieme Publishing Group are provided with DRM (Digital Rights Management) protection from Vitalsource
On how many devices can I read the e-book?
You can read an e-book on up to six different (mobile) devices. These devices must be authorized with the same Adobe ID.
Can I exchange/return an e-book?
E-books are products that are not suitable for return due to their nature. Just like downloads of other electronic files (movies, music or software), e-books are excluded from the right of withdrawal. A return or exchange is therefore not possible.
Other questions?

If you have any questions about downloading Bookshelf, creating your account, or accessing and using your eBook edition, please visit http://support.vitalsource.com/