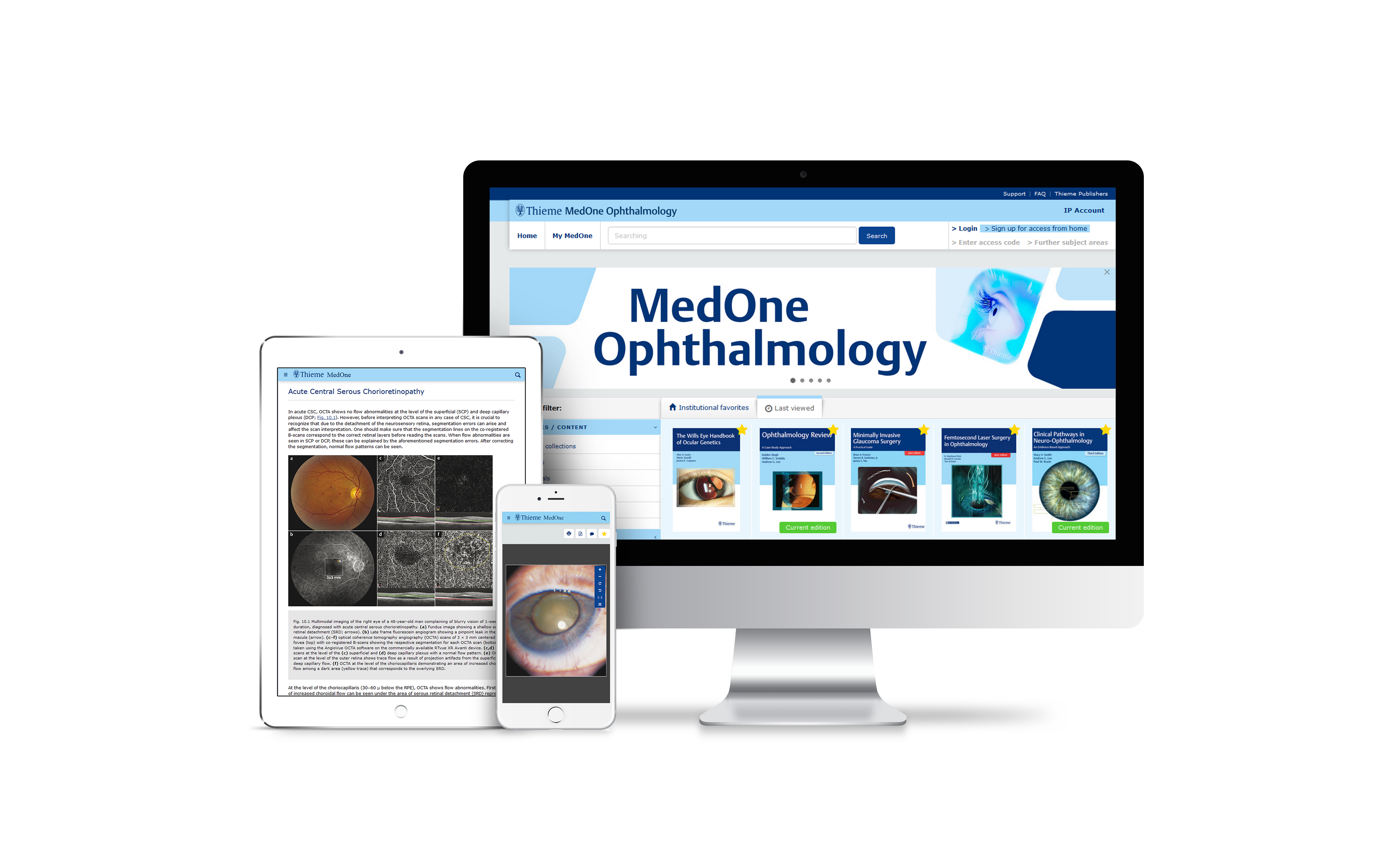 MedOne Ophthalmology
2023 Individual Subscription
Product information MedOne Ophthalmology
When dealing with the complexities of diseases of the eye and their treatment, ophthalmologists need to look no further: MedOne Ophthalmology is a dynamic educational resource featuring core and cutting-edge topics, authoritative videos and valuable content collections covering the field of eye care. Thieme has created an educational resource for residents and practicing surgeons providing them with answers and guidance to patient problem areas and important concepts of diagnosis and management within surgical eye disease.
MedOne's powerful platform is perfect for residents and experienced specialists alike. By combining expert information with stunning visuals, the site serves as both a learning and technical tool. MedOne makes it easy for busy practitioners to research at home, at work, or on the go.
KEY FEATURES
E-Books - A fully searchable database with access to premier ophthalmology e-books including the Wills Eye Handbook of Ocular Genetics and Neuro-Ophthalmology Illustrated
E-Journals - Access to content from the Open Access Journal of Academic Ophthalmology.
Content collections - Diagnosis-oriented content collection based on symptoms.
Media - 16,200 images with legends and over 370 videos.
Playlists – create your personal collection of reading materials for reference, study or sharing
*This offer is available only for individual username/password controlled access to
https://medone-ophthalmology.thieme.com/
. The price for 2023 cannot be combined with any other offers. All related taxes are calculated at checkout. Please allow 1-2 business days to receive email notice with account activation details. Please note that subscriptions are valid from the time of purchase until December 31, 2023.