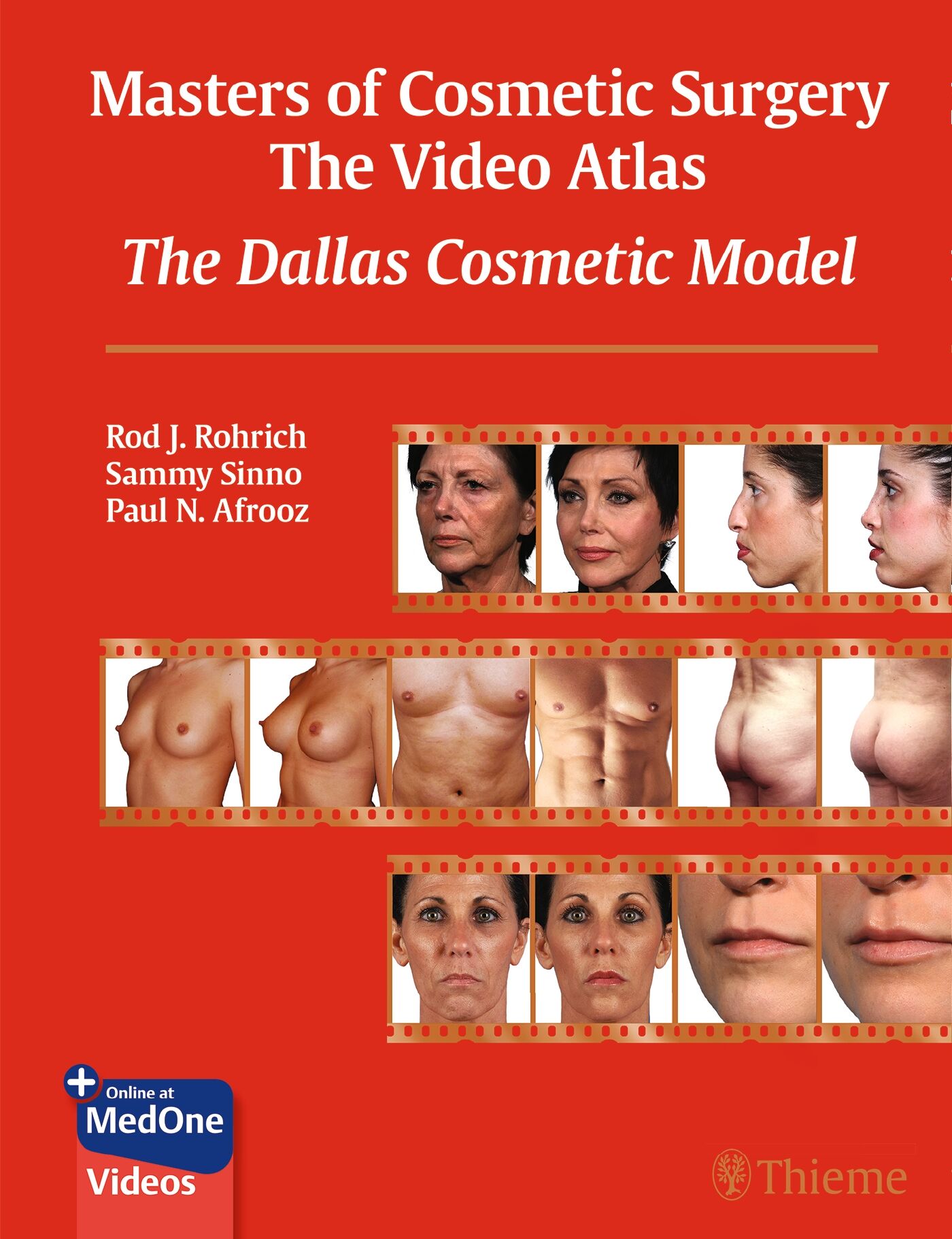 Masters of Cosmetic Surgery - The Video Atlas
The Dallas Cosmetic Model
Edition:

1 2021

Details:

448 pages, 741 ill., Hardback (Perfect Binding)

ISBN:

9781684202171

Media Type:

Book

Language of text:

English
Product information Masters of Cosmetic Surgery - The Video Atlas
"A useful, richly illustrated yet succinct book that earns a well-deserved place on the bookshelf of plastic surgeons, facial plastic surgeons, cosmetic dermatologists, and dermatologic surgeons around the world… This one sets itself apart with its elegance, finesse, and comprehensiveness."
- Jonathan Kantor, MD, MSCE, JAAD International
Quickly learn and master essential aesthetic surgical procedures from global experts!
The rapid growth in global demand for cosmetic surgery has led to an urgent need for aesthetic surgeons to learn an ever-growing menu of advanced procedures. Masters of Cosmetic Surgery–The Video Atlas: The Dallas Cosmetic Model edited by internationally renowned plastic surgeon Rod J. Rohrich and esteemed colleagues Sammy Sinno and Paul N. Afrooz presents an amazing new method of learning cosmetic surgery techniques. The didactic video guide features contributions from a Who's Who of superb surgeons and dermatologists that are committed to excellence in their own practices and educational endeavors.
Thirteen sections and 93 succinct chapters are brought to life through key video segments in each chapter that expound on how to perform procedures safely and efficiently to achieve optimal outcomes. This unique resource covers 90 procedures and includes more than 12 hours of video, providing clinicians with the ability to read, see, and hear from an impressive cadre of global experts. Procedural chapters cover the face and neck; nose; eyelids, brow, and forehead; ears; lips; chin and jaw; neuromodulators; fillers; facial resurfacing; breast augmentation and reduction; body contouring; vaginal rejuvenation; and non-surgical body contouring.
Key Highlights
Masters in cosmetic medicine and surgery share clinical pearls on how to flawlessly perform procedures and optimally handle practice management issues
Short videos provide an easy method for seeing, performing, and perfecting procedures, resulting in greater efficiency, skill, and safety
Well-illustrated high-yield text including key points, preoperative considerations, anatomical features, step-by-step operative guides, and algorithms enhance the ability to quickly learn key concepts for any procedure
This how and why guide is transformative in its teaching and learning methods, making it the quintessential reference for trainee and board-certified plastic surgeons, dermatologists, facial plastic surgeons, and oculoplastic surgeons.
This book includes complimentary access to a digital copy on https://medone.thieme.com.
Frequently asked questions
How do I redeem my eBook?

Once you have successfully completed your eBook purchase on Thieme.com please look in your Order Confirmation e-mail for your unique redemption code. If you have not received your code, please contact Customer Service at customerservice@thieme.com for assistance.
Please go to https://www.vitalsource.com and make an account if you do not already have one.
Once you are logged in, click the Account menu at the top right of the screen. Select Redeem and enter the redemption code in the Code To Redeem box.
Press Redeem. Once the code has been redeemed your eBook will download and appear in your library.
(Please note that this is a one time use code)
Can I download e-books directly to mobile phones/tablets (without going through PC/laptop)?

Click this link to access app downloads for iPhone, Android, Kindle, Mac, PC, and Chromebook: https://www.vitalsource.com/downloads
Once you have downloaded the Bookshelf app, open the app and log in to your Bookshelf account to access your eBook. Click on "All Titles" in the collection pane to view all the eBooks in your account. Double-click on the title to download the book to your device. Once downloaded, double-click again to open the book.
Can I transfer e-books to other computers?
With an account from Vitalsource, you are able to access your book anywhere once you have logged in to your account at least once.
What is an e-book?
An e-book is an electronic edition of a printed book that is available as a file. The content does not differ from the printed edition of the book. Thieme offers electronic books in PDF and EPUB formats. For both formats, you need software to display the documents on your reading device. This software is not part of the e-book download.

What is the PDF format?
Adobe PDF format (Portable Document Format) is a standard format in MAC/PC area. Free programs for reading a PDF are available for all common operating systems (e.g. Windows, Mac OS, Linux) and for almost all e-book readers such as e-book readers, tablets or smartphones.
What is the EPUB format?
EPUB (electronic publication) is a standard format for e-books that enables dynamic adaptation of the text to the size of the display device. It is particularly well suited for displaying e-books on tablet PCs, smartphones, and e-book readers.
EPUBs can also be easily displayed on MACs/PCs via the free ADE (Adobe Digital Editions) software, for example.
Is an Internet connection required to read an e-book?
An Internet connection is required only to download the e-book to the reader. Once the download is complete, you can view and read the e-book without an Internet connection.
Are e-books copy-protected?
E-books from Thieme Publishing Group are provided with DRM (Digital Rights Management) protection from Vitalsource
On how many devices can I read the e-book?
You can read an e-book on up to six different (mobile) devices. These devices must be authorized with the same Adobe ID.
Can I exchange/return an e-book?
E-books are products that are not suitable for return due to their nature. Just like downloads of other electronic files (movies, music or software), e-books are excluded from the right of withdrawal. A return or exchange is therefore not possible.
Other questions?

If you have any questions about downloading Bookshelf, creating your account, or accessing and using your eBook edition, please visit http://support.vitalsource.com/