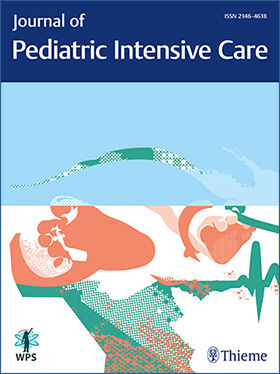 Journal of Pediatric Intensive Care
ISSN:

2146-4618.3

Media Type:

Journals

Issues:

4 per year

Language:

English

Volume:

12
Product information Journal of Pediatric Intensive Care
Subscribe today and receive up to 20% off your first year's subscription! Applies for Individuals only.

The Journal of Pediatric Intensive Care is an English multidisciplinary peer-reviewed international journal publishing articles in the field of pediatric intensive care. Journal of Pediatric Intensive Care is written for the entire intensive care team: pediatric intensivist, pediatricians, neonatologists, respiratory therapists, pediatric anesthetist, nurses, and others who deal with patients in neonatal and pediatric intensive care units. Journal of Pediatric Intensive Care provides an in-depth update on new subjects and current comprehensive coverage of the latest techniques in intensive care in childhood.
Journal of Pediatric Intensive Care encourages submissions from all authors throughout the world. The following articles will be considered for publication: editorials, original and review articles, short report, rapid communications, letters to the editor, and book reviews. Case reports are no longer published in the Journal of Pediatric Intensive Care. Authors are encouraged to submit case reports to the Journal of Child Science. The aim of the journal is to share and disseminate knowledge between all disciplines in the field of pediatric intensive care. This journal is a publication of the World Pediatric Society: http://www.worldpediatricsociety.org/
The Journal of Pediatric Intensive Care is available in print and online. Articles published ahead of print are available via the eFirst service on the Thieme E-Journals platform.
Journal of Pediatric Intensive Care is affiliated with:
Argentina Intensive Care Society
Colombian Association of Critical Care and Intensive Care
Costa Rican Association of Pediatrics-Chapter: Critical Medicine and Intensive Care
Egyptian Neonatal Network
Egyptian Society of Pediatric Intensive Care
Ibero-American Society of Neonatology
International Pediatric Simulation Society
Italian Society of Anesthesia, Analgesia and Pediatric Intensive Care
Mexican Association of Pediatric Intensive Care
Neonatal Society of Bosnia and Herzegovina
Pediatric Section of the Polish Society of Anaesthesiology and Intensive Therapy
Polish Society of Anaesthesiology and Intensive Therapy
Saudi Critical Care (Pediatric) Society
Society of Pediatric Anesthesiologists and Intensivists-Serbia
Spanish Society of Pediatric Critical Care
Sri Lankan Society of Critical Care and Emergency Medicine
Working Group for Neonatology and Pediatric Intensive Care of the Austrian Society of Pediatrics and Adolescent Medicine
Abstracting and indexing:
EMBASE, Emerging Sources Citation Index (ESCI), PubMed Central, Google Scholar, EBSCO, ProQuest

Individual Rates: Personal subscription orders can only be placed by individuals and must include the recipient's name and personal address. Must be for individual use only and paid for by personal funds of the individual. Only qualified professionals and students are eligible for individual subscriptions.
For institutional subscriptions, please contact Institutional Sales for pricing at:
In US, Canada, South and Central America, please contact esales@thieme.com.
In Europe, Asia, Africa and Australia, please contact eproducts@thieme.de.
Please read our complete Terms of Trade for journal subscription policies.
Journal subscribers will receive a separate invoice and confirmation for your subscription order with taxes broken down separately as applicable and appropriate for your region.