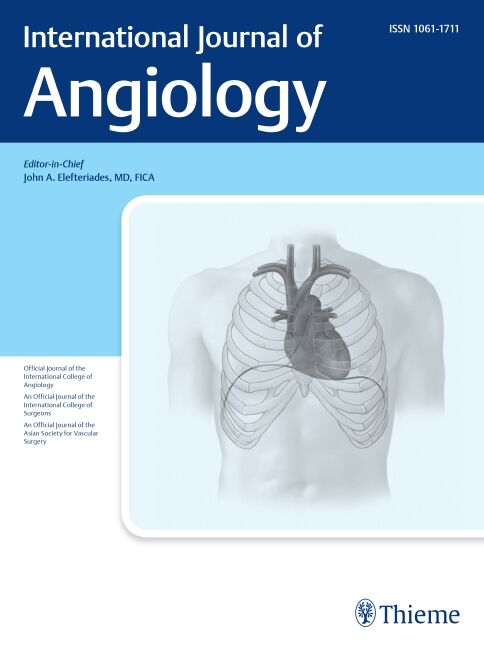 International Journal of Angiology
ISSN:

1061-1711

Media Type:

Journals

Issues:

4 per year

Language:

English

Volume:

32
Product information International Journal of Angiology
Subscribe today and receive up to 20% off your first year's subscription! Applies for Individuals only.

The International Journal of Angiology is a peer-reviewed journal dedicated to the diagnosis, treatment and long-term management of vascular and cardiovascular disease. A multidisciplinary journal, it publishes original research, reviews, case reports, and rapid communications on all aspects of angiology. Articles published cover experimental, clinical, and basic science; as well as the outcomes of medical research and clinical trials.
A key publication for all those working in cardiovascular medicine and surgery, the International Journal of Angiology will be of interest to cardiovascular surgeons, vascular surgeons, interventional cardiologists and radiologists, neurologists, neurosurgeons, internists, cardiology researchers and general physicians.
AIMS & SCOPE
To provide a medium for the timely publication of scientific materials in the field of vascular and cardiovascular medicine and surgery.
To promote a multi-disciplinary approach to the management and treatment of vascular and cardiovascular disease.
To report the latest clinical outcomes of new surgical and clinical techniques in the field of angiology.
The International Journal of Angiology is the official journal of the International College of Angiology, and as such is distributed to all members as part of the membership package. The society is committed to improving health and quality of life through the practice of vascular medicine and surgery, and supports extensive research and educational programmes. For further information on how to become a member, visit www.intlcollegeofangiology.org.
The International Journal of Angiology is also an official journal of the International College of Surgeons and the Asian Society for Vascular Surgery.The International Journal of Angiology is available in print and online. Articles published ahead of print are available via the eFirst service on the Thieme E-Journals platform.
Abstracting and indexing:
EMBASE, ESCI, Scopus, EBSCO, ProQuest

Individual Rates: Personal subscription orders can only be placed by individuals and must include the recipient's name and personal address. Must be for individual use only and paid for by personal funds of the individual. Only qualified professionals and students are eligible for individual subscriptions.
For institutional subscriptions, please contact Institutional Sales for pricing at:
In US, Canada, South and Central America, please contact esales@thieme.com.
In Europe, Asia, Africa and Australia, please contact eproducts@thieme.de.
Please read our complete Terms of Trade for journal subscription policies.
Journal subscribers will receive a separate invoice and confirmation for your subscription order with taxes broken down separately as applicable and appropriate for your region.