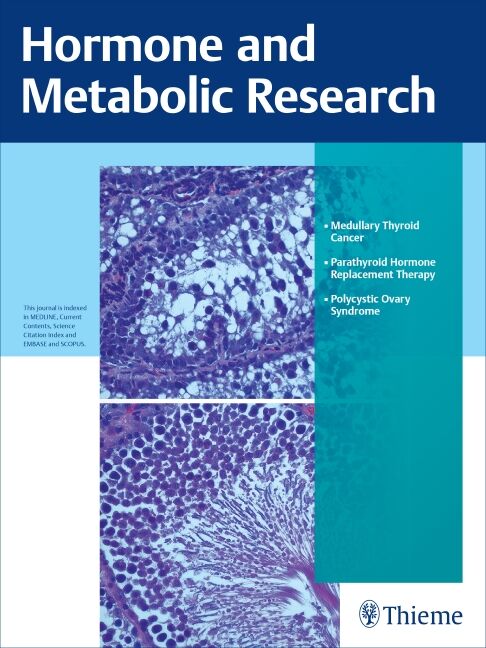 Hormone and Metabolic Research
ISSN:

0018-5043

Media Type:

Journals

Issues:

12 per year

Language:

English

Volume:

55
*Prices include shipping costs.
Product information Hormone and Metabolic Research
Subscribe today and receive 20% off your first year's subscription! Applies for Individuals only.
Journal Scope
Covering the fields of endocrinology and metabolism from both, a clinical and basic science perspective, this well regarded journal publishes original articles on cutting edge topics. Speedy publication time is given high priority, ensuring that endocrinologists worldwide get timely, fast-breaking information as it happens.
Hormone and Metabolic Research presents reviews, original papers, and short communications, and includes a section on Innovative Methods. With a preference for experimental over observational studies, this journal disseminates new and reliable experimental data from across the field of endocrinology and metabolism to researchers, scientists and doctors world-wide.
Impact Factor 2022: 2.2
Abstracting and indexing:
MEDLINE, Current Contents, Science Citation Index, EMBASE, SCOPUS, EBSCO, ProQuest

Individual Rates:
Personal subscription orders can only be placed by individuals and must include the recipient's name and personal address. Must be for individual use only and paid for by personal funds of the individual. Only qualified professionals and students are eligible for individual subscriptions.
Please read our complete Terms of Trade for journal subscription policies.
Journal subscribers will receive a separate invoice and confirmation for your subscription order with taxes broken down separately as applicable and appropriate for your region.
Frequently asked questions
How do I redeem my eBook?

Once you have successfully completed your eBook purchase on Thieme.com please look in your Order Confirmation e-mail for your unique redemption code. If you have not received your code, please contact Customer Service at customerservice@thieme.com for assistance.
Please go to https://www.vitalsource.com and make an account if you do not already have one.
Once you are logged in, click the Account menu at the top right of the screen. Select Redeem and enter the redemption code in the Code To Redeem box.
Press Redeem. Once the code has been redeemed your eBook will download and appear in your library.
(Please note that this is a one time use code)
Can I download e-books directly to mobile phones/tablets (without going through PC/laptop)?

Click this link to access app downloads for iPhone, Android, Kindle, Mac, PC, and Chromebook: https://www.vitalsource.com/downloads
Once you have downloaded the Bookshelf app, open the app and log in to your Bookshelf account to access your eBook. Click on "All Titles" in the collection pane to view all the eBooks in your account. Double-click on the title to download the book to your device. Once downloaded, double-click again to open the book.
Can I transfer e-books to other computers?
With an account from Vitalsource, you are able to access your book anywhere once you have logged in to your account at least once.
What is an e-book?
An e-book is an electronic edition of a printed book that is available as a file. The content does not differ from the printed edition of the book. Thieme offers electronic books in PDF and EPUB formats. For both formats, you need software to display the documents on your reading device. This software is not part of the e-book download.

What is the PDF format?
Adobe PDF format (Portable Document Format) is a standard format in MAC/PC area. Free programs for reading a PDF are available for all common operating systems (e.g. Windows, Mac OS, Linux) and for almost all e-book readers such as e-book readers, tablets or smartphones.
What is the EPUB format?
EPUB (electronic publication) is a standard format for e-books that enables dynamic adaptation of the text to the size of the display device. It is particularly well suited for displaying e-books on tablet PCs, smartphones, and e-book readers.
EPUBs can also be easily displayed on MACs/PCs via the free ADE (Adobe Digital Editions) software, for example.
Is an Internet connection required to read an e-book?
An Internet connection is required only to download the e-book to the reader. Once the download is complete, you can view and read the e-book without an Internet connection.
Are e-books copy-protected?
E-books from Thieme Publishing Group are provided with DRM (Digital Rights Management) protection from Vitalsource
On how many devices can I read the e-book?
You can read an e-book on up to six different (mobile) devices. These devices must be authorized with the same Adobe ID.
Can I exchange/return an e-book?
E-books are products that are not suitable for return due to their nature. Just like downloads of other electronic files (movies, music or software), e-books are excluded from the right of withdrawal. A return or exchange is therefore not possible.
Other questions?

If you have any questions about downloading Bookshelf, creating your account, or accessing and using your eBook edition, please visit http://support.vitalsource.com/