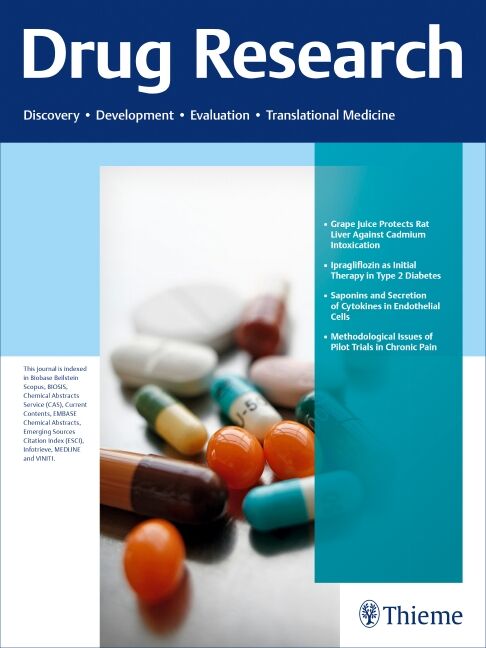 Drug Research
ISSN:

2194-9379

Media Type:

Journals

Issues:

9 per year

Language:

English

Volume:

73
Product information Drug Research
Subscribe today and receive 20% off your first year's subscription! Applies for Individuals only.
Drug Research (formerly Arzneimittelforschung) is an international peer-reviewed journal with expedited processing times presenting the very latest research results related to novel and established drug molecules and the evaluation of new drug development. A key focus of the publication is translational medicine and the application of biological discoveries in the development of drugs for use in the clinical environment. Articles and experimental data from across the field of drug research address not only the issue of drug discovery, but also the mathematical and statistical methods for evaluating results from industrial investigations and clinical trials.
Publishing twelve times a year, Drug Research includes original research articles as well as reviews, commentaries and short communications in the following areas:
analytics applied to clinical trials
chemistry and biochemistry
clinical and experimental pharmacology
drug interactions
efficacy testing
pharmacodynamics
pharmacokinetics
teratology
toxicology

Drug Research proudly presents the winners of the Best Short Presentation Awards awarded during the DGPT Summit:

Experimental Clinical Pharmacology and Toxicology
Mathias Haag
Dr. Margarete Fischer-Bosch-Institut für medizinische Forschung mbH

Experimental Pharmacology and Toxicology
Carolin Rommel
Universität Freiburg
Abstracting and indexing:
Biobase Beilstein Scopus, BIOSIS, Chemical Abstracts Service (CAS), Current Contents, EMBASE Chemical Abstracts, Emerging Sources Citation Index (ESCI), Infotrieve, MEDLINE, VINITI, EBSCO, ProQuest



Individual Rates: Personal subscription orders can only be placed by individuals and must include the recipient's name and personal address. Must be for individual use only and paid for by personal funds of the individual. Only qualified professionals and students are eligible for individual subscriptions.
For institutional subscriptions, please contact Institutional Sales for pricing at:
In US, Canada, South and Central America, please contact esales@thieme.com.
In Europe, Asia, Africa and Australia, please contact eproducts@thieme.de.
Please read our complete Terms of Trade for journal subscription policies.
Journal subscribers will receive a separate invoice and confirmation for your subscription order with taxes broken down separately as applicable and appropriate for your region.