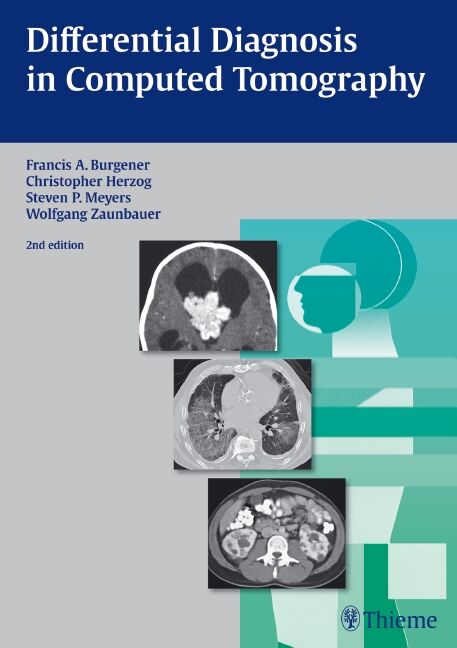 Edition:

2nd edition 2012

Details:

868 pages, 2146 ill., Hardback (Thread Stitching)

ISBN:

9783131025425

Media Type:

Book

Language of text:

English
Product information Differential Diagnosis in Computed Tomography
The new Burgener: Improve your interpretation skills with this bestselling comprehensive reference to interpreting abnormal CT findings
Differential Diagnosis in Computed Tomography, 2nd edition, is an invaluable reference aid in the evaluation of CT images to help confidently gain a general diagnostic impression and a reasonable differential diagnosis. In contrast to disease-oriented radiology texts, this book is organized by CT findings, enabling the reader to quickly match the appropriate differential diagnosis to CT results.
Special features of the second edition:
Continuation of the successful Burgener concept: Comprehensive tables describe the imaging patterns of the various diseases that may present on CT, along with other characteristically associated imaging findings and pertinent physiopathologic, pathologic, and clinical data
Over 2,000 detailed, high-quality images demonstrating a wide range of common and uncommon CT findings
Chapters organized according to anatomic regions, from the brain to the pelvis and the musculoskeletal system, with new chapters on meningeal and calvarian lesions and on trauma
Updated and revised sections reflecting the latest advances in CT technology and indications, including accurate staging of intra-articular and spinal fractures and evaluation of vascular diseases
Extensive index systematically cross-references diseases and CT findings for optimal access to information
Recognizing the central role that CT plays in the field of modern medical imaging, this book is essential for physicians who want to strengthen their diagnostic acumen and CT interpretation skills: radiologists in practice; residents preparing for board exams; and any other physician charged with understanding and interpreting CT images.