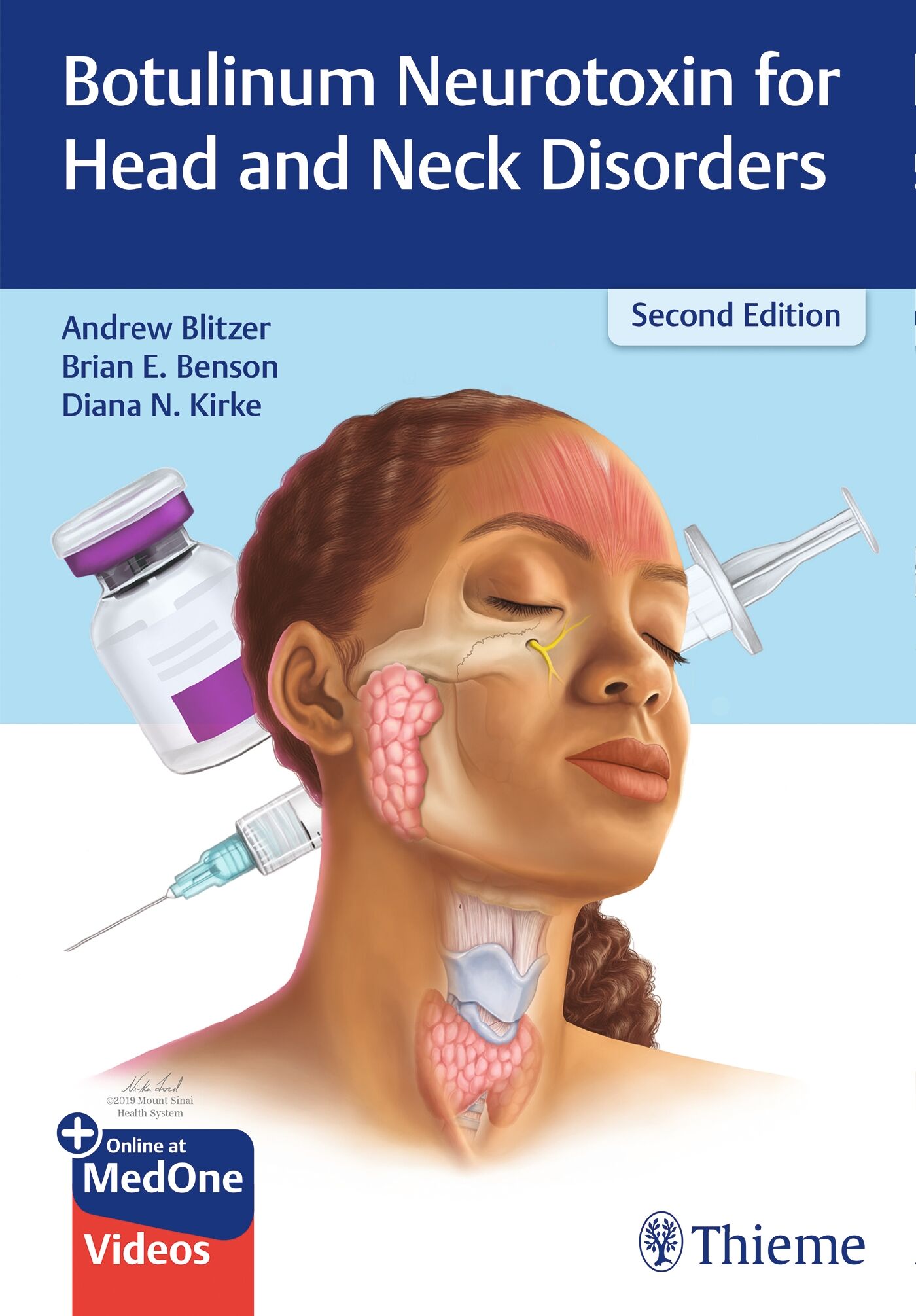 Botulinum Neurotoxin for Head and Neck Disorders
Edition:

2 2020

Details:

226 pages, 95 ill., Hardback (Thread Stitching)

ISBN:

9781684200955

Media Type:

Book

Language of text:

English
Product information Botulinum Neurotoxin for Head and Neck Disorders
The most comprehensive, state-of-the-art guide available on the use of botulinum neurotoxin for head & neck disorders!
Senior author Andrew Blitzer is an internationally renowned pioneer on the use of botulinum neurotoxin for functional disorders, with unparalleled expertise on this topic. Joined by esteemed co-editors Brian Benson and Diana Kirke, with multidisciplinary contributors, Botulinum Neurotoxin for Head and Neck Disorders Second Edition fills a gap in the medical literature. The unique textbook focuses on the use of botulinum neurotoxins for functional disorders of the head and neck, though with some aesthetic indications. The second edition reflects the latest advances and understanding of existing and emerging applications for botulinum neurotoxins, including new treatment paradigms, revised pharmacology, and an updated review of the literature in all chapters.
Twenty superbly illustrated chapters cover the management of hyperfunctional, pain, and hypersecretory syndromes of the head and neck. Hyperfunctional motor disorders are discussed in chapters focused on blepharospasm, facial dystonia, Meige syndrome, oromandibular dystonia, spasmodic dysphonia (laryngeal dystonia), and cervical dystonia. Specific treatment approaches for pain are addressed in chapters on migraine and chronic daily tension headaches, temporomandibular disorders, and trigeminal neuralgia. The treatment of autonomic nervous system disorders is covered in chapters dedicated to Frey syndrome, facial hyperhydrosis, and sialorrhea.
Key Features
A 30-year review of spasmodic dysphonia data includes new insights encompassing comprehensive treatment, management and outcomes results, and neuropathophysiology
A new chapter details the emerging role of botulinum neurotoxin to treat radiation-induced spasm and pain
Updates on the management of palatal myoclonus, temporomandibular joint disorder, and sialorrhea
An impressive compendium of professional injection videos, including a new video on sialorrhea and an updated migraine video
Clinical pearls throughout the book focus on best practices, how to avoid pitfalls, and achieving the most optimal outcomes
This is a must-have resource for otolaryngologists–head and neck surgeons, neurologists, dentists, pain specialists, physical medicine and rehabilitation specialists, and others health professionals who use botulinum neurotoxin to treat motor, sensory, and autonomic disorders of the head and neck region.
This book includes complimentary access to a digital copy on https://medone.thieme.com.
Frequently asked questions
How do I redeem my eBook?

Once you have successfully completed your eBook purchase on Thieme.com please look in your Order Confirmation e-mail for your unique redemption code. If you have not received your code, please contact Customer Service at customerservice@thieme.com for assistance.
Please go to https://www.vitalsource.com and make an account if you do not already have one.
Once you are logged in, click the Account menu at the top right of the screen. Select Redeem and enter the redemption code in the Code To Redeem box.
Press Redeem. Once the code has been redeemed your eBook will download and appear in your library.
(Please note that this is a one time use code)
Can I download e-books directly to mobile phones/tablets (without going through PC/laptop)?

Click this link to access app downloads for iPhone, Android, Kindle, Mac, PC, and Chromebook: https://www.vitalsource.com/downloads
Once you have downloaded the Bookshelf app, open the app and log in to your Bookshelf account to access your eBook. Click on "All Titles" in the collection pane to view all the eBooks in your account. Double-click on the title to download the book to your device. Once downloaded, double-click again to open the book.
Can I transfer e-books to other computers?
With an account from Vitalsource, you are able to access your book anywhere once you have logged in to your account at least once.
What is an e-book?
An e-book is an electronic edition of a printed book that is available as a file. The content does not differ from the printed edition of the book. Thieme offers electronic books in PDF and EPUB formats. For both formats, you need software to display the documents on your reading device. This software is not part of the e-book download.

What is the PDF format?
Adobe PDF format (Portable Document Format) is a standard format in MAC/PC area. Free programs for reading a PDF are available for all common operating systems (e.g. Windows, Mac OS, Linux) and for almost all e-book readers such as e-book readers, tablets or smartphones.
What is the EPUB format?
EPUB (electronic publication) is a standard format for e-books that enables dynamic adaptation of the text to the size of the display device. It is particularly well suited for displaying e-books on tablet PCs, smartphones, and e-book readers.
EPUBs can also be easily displayed on MACs/PCs via the free ADE (Adobe Digital Editions) software, for example.
Is an Internet connection required to read an e-book?
An Internet connection is required only to download the e-book to the reader. Once the download is complete, you can view and read the e-book without an Internet connection.
Are e-books copy-protected?
E-books from Thieme Publishing Group are provided with DRM (Digital Rights Management) protection from Vitalsource
On how many devices can I read the e-book?
You can read an e-book on up to six different (mobile) devices. These devices must be authorized with the same Adobe ID.
Can I exchange/return an e-book?
E-books are products that are not suitable for return due to their nature. Just like downloads of other electronic files (movies, music or software), e-books are excluded from the right of withdrawal. A return or exchange is therefore not possible.
Other questions?

If you have any questions about downloading Bookshelf, creating your account, or accessing and using your eBook edition, please visit http://support.vitalsource.com/